Civitech Strings is a residential project with 2 and 3 BHK premium homes with a location at Sector 12, Greater Noida West. The residential project is with homes that have sizes of 1090 sq ft to 1275 sq ft. The project offers ready-to-move homes at great prices with starting price of Rs 52.30 lakh onwards. The residential project is with low-density development that gives more space per person. The project is with residential developments that come with great neighborhoods. The project comes with spectacular views with clean environments that let you breathe easily. The project is soon to connect with metro services and the upcoming Jewar airport. It has spacious built 4 towers that connect well with lifts and is safe with RCC structures.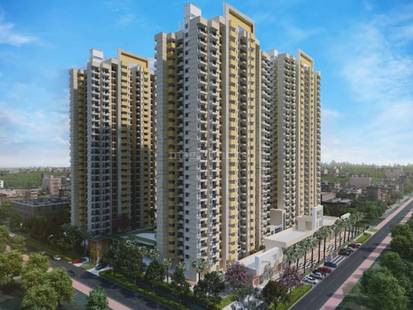 Civitech Strings is with 2 BHK which has an area of 1090 sq ft, and 3 BHK with an area of 1250 sq ft. It has 3 BHK type 2 with an area of 1275 sq ft. The residential project adds perfect developments with contemporary architecture. It has ultimate modern comfort that makes you feel at ease. The project connects with nearby metro services and has well-developed expressways and highways. The project is with 3-tier security and has a CCTV monitoring system in place. The project has efficient housekeeping developments and a well-developed maintenance team to look after the project units. It is with close connectivity to modern educational institutes, and financial and Medicare units.
Civitech Strings is with a huge number of amenities such as a swimming pool, fire systems, play area, and clubhouse. It has car parking, retail shops, 24/7 power, and backup. It has 24/7 water and it adds security guards to keep vigil. The project has a landscape garden, gym, kid's play area, and yoga park. It has a community center that lets you meet like-mind individuals. It adds a customer-centric approach that is well defined and environment-friendly developments make life easy for residents. It adds robust engineering developments that can be seen in its architecture. It creates a benchmark with quality construction and gives it an ideal way to reside with the RCC frame structure.
Civitech Strings is with north-east-facing corner plots and a convenient shopping center within reach. It has an air-conditioned gym and adds spectacular party halls. The project is with 70% of open, green, and creative space. The project connects well with local transportation. It adds proximity to prestigious schools, hospitals, banks, and recreational facilities. The project is based on a podium base project with extra security, a noise-free environment, and privacy which is much of a need. Civitech Strings gives one of the most essential needs ample car parking. It is with well-ventilated and green creative spaces. The project comes with close connectivity to important destinations. It has Jewar airport within 15 minutes, IT Park in 1 minute, and Film City at 15 minutes distance. It has connectivity to the Delhi border within 20 minutes, the Metro station in 5 minutes, and Knowledge Park within 10 minutes from it. It offers an ideal investment opportunity. Project CRC Joyous Payment Plan , Wave City Ghaziabad Plots Price , Fusion Limited.