DLF Wellington Estate, an upscale residential property by DLF Group, offers a premium luxury experience. Situated in DLF City Phase 5, Sector 43 Gurugram, the location boasts excellent connectivity to all parts of the city. This property is currently available for resale and features luxurious 3BHK and 4BHK apartments ranging from 1346 sq. ft to 1682 sq. ft. Spanning a vast area of 7 Acres, the project comprises a total of 555 residential units. Designed to meet the modern needs of residents, this residential property promises to provide the utmost satisfaction to its residents. Mahagun Mywoods floor plan, Wave City Ghaziabad, Fusion The Brook floor plan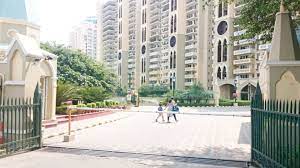 All units in this project are ready-to-move flats that offer spacious living spaces. Additionally, exclusive penthouses are also available within the complex. Each apartment is equipped with power backup, comprehensive fire safety measures, and security systems. The well-designed site consists of 6 towers, each with its unique advantages. Investing in this residential project will not only promises a substantial return in the future but also retains its allure. This project is strategically developed in a prime location near the city, offering a luxurious lifestyle.
Location of DLF Wellington

Wellington Estate by DLF is a conveniently situated residential complex in Sector 53, Golf Course Road. Positioned in DLF City Phase V, Golf Course Road, this residential project offers spacious living spaces in a prime location. Its proximity to the Golf Course Road ensures easy access to key areas of the city and transportation facilities. Within a comfortable distance, you will find a variety of shopping zones, hospitals, banks, ATMs, schools, and more. Additionally, it is located next to a metro station which ensures easy access to transportation needs. The property is surrounded by notable landmarks and neighborhoods such as Lancers International School, Football Park, Wellington Estate Park, HDFC Bank, and Indian Oil Petrol Pump. With well-connected roads like Club Drive, Khatu Shyam Mandir Road, St Thomas Marg, Gulati Road, and Sector Road, commuting is convenient from this property.
Apartments in DLF Wellington

DLF Wellington apartments have been thoughtfully designed to ensure adequate ventilation and natural light in each unit. The property adheres to Vastu principles, making it harmonious and balanced. The flooring throughout the property is crafted with luxurious imported marble, creating an elegant ambiance. The bedrooms feature wooden laminated flooring, adding a touch of warmth and comfort. The bathrooms are equipped with premium sanitary fittings, adding a touch of sophistication. The kitchen boasts a fully modular design, complete with a silent chimney and a dishwasher for convenient and effortless cooking experiences.
Amenities in DLF Wellington

DLF Wellington is renowned for its lavish and prestigious reputation, and it offers a comprehensive range of essential and desirable amenities to cater to its residents' needs. The project boasts a swimming pool, a well-equipped gymnasium, an on-site ATM, beautifully landscaped gardens, and a dedicated play area for children. Additionally, a spacious and luxurious community hall is available for various meetings and social gatherings. T
Wellington by DLF also features rainwater harvesting facilities, a well-maintained community hall, and an impressive squash court, among other amenities. To ensure convenience, an ATM facility is provided within the premises for easy access to cash. Moreover, grocery shops and a shopping center are conveniently located to meet residents' daily needs. The management places a high emphasis on building security, with surveillance cameras strategically positioned throughout the building, offering round-the-clock monitoring for enhanced safety. With its wide range of amenities and focus on security, DLF Wellington proves to be an excellent investment opportunity.Prices of Apartments in DLF Wellington
Investing in this property is a highly prudent decision considering the plethora of facilities it offers. The property boasts a wide range of amenities that contribute to a comfortable and convenient lifestyle. The pricing for the apartments in this residential project starts from 1.45 crores and goes up to 2.5 crores, offering a range of options to suit different budgets. With its promising features, this property is expected to yield significant returns in the near future, thereby enhancing your standard of living. Notably, it stands out as an affordable, yet promising residential project situated in Sector 53, Golf Course Road. The project guarantees a lifestyle that perfectly aligns with the demands of urban living, making it an enticing choice for prospective residents in the heart of Gurugram.