Eldeco Live by The Greens is a residential project with 2 and 3 BHK apartments with one of the prime locations at sector 150, Noida. The residential project is a premium project that comes with green developments. The residential project is with the best of the residences that let you enjoy peace and comfort. The project gives you a spectacular view of lifestyle developments and with better amenities, specifications. The project area at Sector 150 will soon have its own ICC Cricket stadium. The project adds beautiful residences to enjoy life like never before. It is with the best lifestyle developments that let you enjoy better homes at great prices.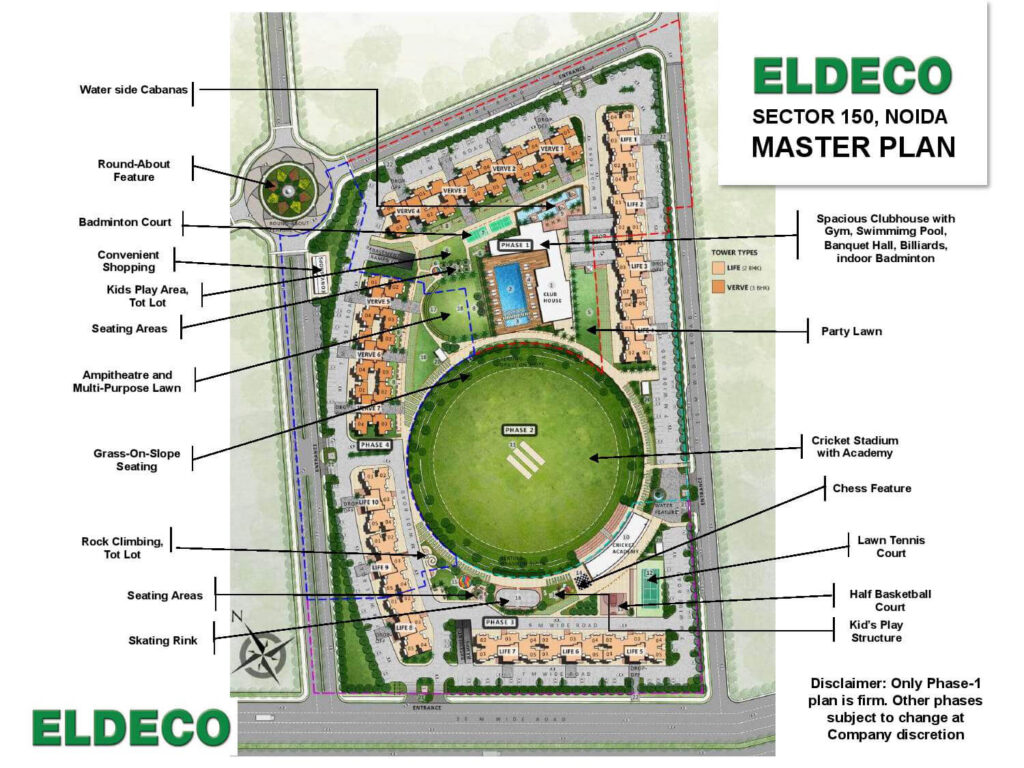 Eldeco Live By The Greens Sector 150 Noida 2 BHK comes with area of 1137 sq ft to 1155 sq ft. It has 3 BHK with an area of 1404 sq ft and with a price of Rs 1.05 Crore onwards. The project is a price of premium residences that has 2 and 3 BHK premium homes. It has world-class sports facilities that also include Rohit Sharma's cricket academy. The project comes with a prime location which comes part of the greenest sector of Noida. The residences come with 80 percent of the green cover area. It comes with resort-like amenities such as a café, poolside cabanas, entrance lobby, and swimming pool. The residential project is with easy connectivity to Delhi-NCR via the Noida-Greater Noida metro. Express Astra Greater Noida West, Paras Avenue Sector 129 Noida, Eros Sampoornam 2 Sector 2 Greater Noida
Eldeco Live by the Greens is with an area of 20 acres of land. It lets you enjoy resort-like living within king-size development as homes. The project lets you enjoy, swim, chill under cabanas, and relax on loungers. It comes with leisure games that give you the enjoyment of lawn tennis. The project comes with four sides open plot, play chess in an outdoor area, and enjoy life's games. It is kids friendly complex that lets you enjoy 4 kid's play areas. It has an amphitheater that offers beautiful grass steps and lets you enjoy seating on the grass.
Eldeco Live by The Greens is in the greenest sector of Noida. It has Saheed Bhagat Singh Park which is spread over an area of 40 acres which is just a few meters distance. The project is spread around a cricket field to relax and rejuvenate beautifully. The project has an area of 35000 sq ft of Clubhouse which offers a resort-like lifestyle. It adds poolside cabanas. The project added with 20.59% price last year which makes it a property with homes that fetches better price. The residential project offers you to enjoy and relish life in beautiful greens. It lets you stay energize and leads a healthy lifestyle. The project lets you breathe freely every day. It lets you walk and jog amidst greens. Eldeco Live by The Greens is with indoor badminton court, table tennis room, multi-purpose hall with party spaces, gym, and indoor kid's play area. It has a board and card games area. The project makes you feel and enjoy the lively atmosphere and a great place to celebrate life.