M3M The Cullinan is a residential and mix-use project with 3, 4, and 5 BHK luxury apartments. The project also includes retail shops, and a food court and has one of the finest locations at Sector 94, Noida. It delivers high-quality lifestyle homes that connect with your needs. It is spread over 12.8 acres of land and has 5 acres of development with open green spaces. The project area is spacious well-ventilated and designed to cater to the needs of families that like aesthetics value homes. The residential project adds UPRERAPRJ442214 as the RERA id. It offers a price of Rs 6.60 Crore onwards which makes it one of the best on offer for luxurious, comfortable experiences. Nirala Aspire Noida Extension, CRC Joyous Noida Extension, Fusion The Brook Noida Extension, Palm Olympia Phase 2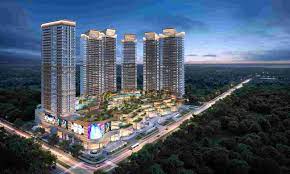 M3M The Cullinan is with 5.5 acres of green area and has a beautiful lounge area, It offers air condition apartments, a business center, squash courts, drop-offs, and triple-height lobbies. The project adds with business center, squash court, and landscape open spaces with a huge number of recreational facilities. The project is spread over an area of 12.8 acres and it makes one of the island kitchen designs. There are 18 hole golf course, banquet hall, swimming pool and Jacuzzi. The residential project is designed for the panoramic view of balconies and it also includes spacious rooms. It also has a beautiful clubhouse and balconies that add sweeping views over the pool decks.
M3M The Cullinan is with 3 BHK + Servant room with an area of 3270 sq ft, 4 BHK + Servant area with 4315 sq ft. It has a 5 BHK + Servant area with 5935 sq ft. The residential project adds some of the necessities of a travelator, a lavish entrance that adds to a pleasant lifestyle. It comes with a high-speed escalator that lets you reach all floors. It gives you easy connectivity with the rest of the NCR with the Noida-Greater Noida metro. The project comes with a low density that offers you more space per family. The residential development has a separate staff room that also includes a store room with a basement on each of the floors. There is air conditioning within the bedrooms, living area, and dining area. It gives you an exclusive 300 units that are up for grabs at great prices.
M3M The Cullinan is with residential amenities that let you feel at ease with all the lifestyle needs. The project keeps security as its top priority and there are CCTV development, and security guards for protective measures. It gives you a loading and unloading bay for the retailers within the residential area for business solutions. It comes with a spacious air condition lounge, the largest car parking along with exclusive valet services. There is a special containment zone for the kids. It comes with radio and mobile taxis with dedicated drop-off and pick-up lanes. It comes with modern and well-maintained washrooms, space with ATMs, banks, and other needs. There are exclusive F and B floors and comes with easy access tourist information center. M3M The Cullinan is with location advantage as it offers seamless connectivity from Noida International Airport. It is zero km from Delhi, great connectivity with hospitals and roads.