RG Luxury Homes possession date is near. This might be exciting news for all the property buyers who have either invest in it or maybe looking for investment. A ready-to-move project is always a good property to buy as the buyers do not have to wait for years to get the property. The development comes with real estate builder, RG Group which has launched the residential society, RG Luxury Homes. The project is with one of the finest locations at Sector 16 B, Greater Noida West. It is with a total land area of 18.4 acres. The project has a total of 2146 apartments with an ideal configuration of 2 and 3 BHK accommodations. The project is with design on a floor area that ranges from 1229 sq ft to 1872 sq ft.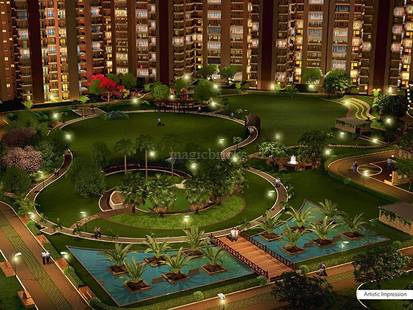 RG Luxury Homes possession dates add with many of the privileges. It is the time when you enjoy with peaceful life as it compliments with modern lifestyle. The project facilitates modern conveniences such as a swimming pool, sports ground, and kid's playground. It adds with gym, clubhouse, and yoga centre. The project adds jogger parks and eco-friendly landscape podium greens. It has a cycling track, an amphitheatre, swimming pools, and a kid's pool. The project offers state of an art clubhouse. To guard the premises it adds with 24/7 security system, CCTV provision, and 100% power back-up in a common area with fresh water supply. It adds indoor games provision for a cards room, table tennis, billiards, and pool.
RG Luxury Homes possession dates give you a good way to rejoice as with many of the projects you have to pay for many utilities. Here the picture-perfect developments do not ask for some of the necessary developments. For details you can immediately contact us as we will give you some pleasant surprise over the bookings. The project offers 100% power backup and fresh water supply which is available 24/7. It has 4 spacious lifts that connect with all floors and is in each of the towers. It has 29 floors each and 13 towers with a total of 2500 units. It has a provision of solar energy in the developments too. The project is developed at one of the finest locations at Sector 16B, Greater Noida West. It is in all accordance with UP RERA registration.
RG Luxury Homes possession date lets you enjoy with privileges that are part of this group. It is built with aesthetic sense and has come up with numerous types that let you buy according to your needs. It has 2 BHK with 1229 sq ft, 1342 sq ft, and 1276 sq ft. It adds 3 BHK that has an area of 1661 sq ft, 1565 sq ft, and 1400 sq ft. The 3 BHK with an area of 1872 sq ft.
RG Luxury Homes have location advantages with 5 minute drive towards FNG Corridor. It is 8 minute drive towards Sai mandir. The City Centre metro station is near it. It is just 12 minutes driving distance towards Fortis Hospitals. It is near Atta Market, Sector 18, Noida, and DND Flyway.
More Project : CRC Joyous Payment Plan , Wave City Plots Price .