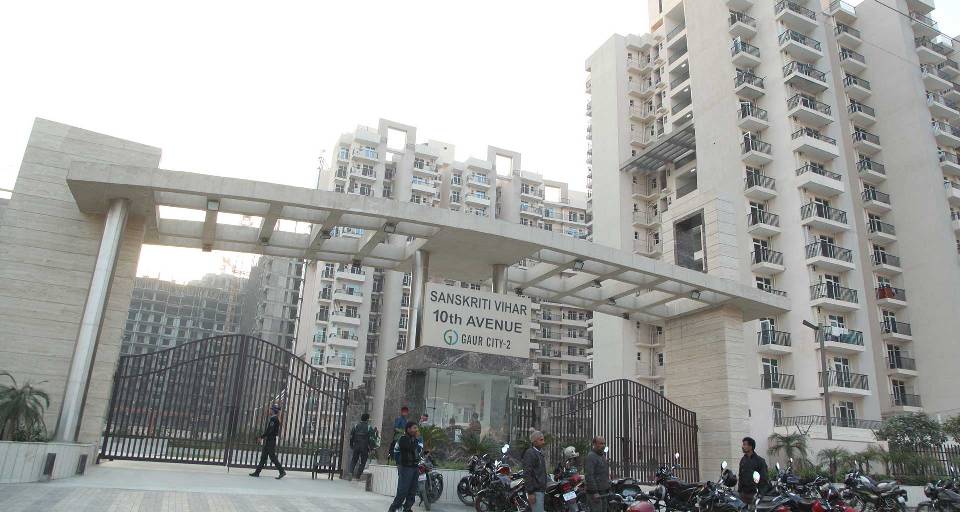 Gaur City 2 is a comfortable living society that offers the best of both the natural and the man made. It is a sprawling residential complex offering more than 20,000 units of residential and commercial properties designed to meet the needs of every economy class. Gaur City is divided in too many avenues and 10th Avenue is one of them and it offers 1, 2 & 3 BHK at the price range of Rs.26 Lac, Rs.43 Lac and Rs. 56 Lac. The price can vary because the society is ready to move in and was opened a long time back. It is a great society furbished with everything that a contemporary citizen and his family would love to enjoy in a housing society. Gaur City has great location in Greater Noida Extension and has many shopping malls nearby besides housing societies of other builders. You can buy one of the Gaur City 10th Avenue Resale as most of them have been taken and people moving to other cities or for upgrades are putting their flats up for sale. Gaur City Greater Noida West / Gaur Siddhartham Price / Gaur City Resale Price / Gaur Atulyam Price
There is distinct benefits to be had with a resale flat and that is, fully operational and more comforts and conveniences added by previous owners. It is like a turnkey project and all you need to do is to move in with your belongings without the need of dabbing the flat with a coat of paint or repairing a defunct water heater or home appliance. The flat sizes vary and several variants are offered in the dimensions of 444 sq ft, 1100 sq ft, 845 sq ft, 1175 sq ft, 1050 sq ft, 1470 sq ft and more. Prices will upswing according to the increased occupied areas and you can expect the homes to be spacious accordingly. Gaur City is designed by RSP the top Singapore architecture firm and is in compliance with all the building norms and has the IGBC green building pre-certification. It is also Vaastu complaint and has several environment friendly features inducted in them.
Gaur City 10th avenue or Sanskriti Vihar has about 2 dozen properties on resale. You will do well to grab one because of the reduced number of offers. You can still get a bank loan to buy the flat that you can pay back in easy installments. 10th Avenue is divided into several blocks starting from A to H and each of these blocks offer different size of apartments. Though they are different in size amenities provided here are for all and you get to enjoy the best including sports complex, cricket ground, golf, swimming pool, clubhouse, banquet hall, and a number of health and fitness activities. You have in house shopping and the Gaur City Mall and Gaur City Plaza across. You can dine in a restaurant within campus and attend school, take first aid in dispensary and entrust your kids to the creche and day care. Gaur City 10th Avenue Resale Flats are good way of investing your surplus money as it will appreciate in value with time and will be a rock solid asset in the coming years. So invest and buy a resale flat now!